Rosie Reid sold her virginity in an auction on the internet to avoid graduating from university with debts of $36,700. The 'lucky winner' was a BT engineer, she claims.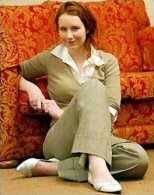 Rosie Reid, lesbian, sold her virginity on her own web site after her lot was removed from Ebay. She claims around 2,000 bidders have showed interest in her offer.

Reid revealed the highest bidder was a divorced 44-year-old BT engineer and father of two. He offered a staggering $20,500 for her 'services'.

Reid admitted the experience was "horrible" but blessedly brief. "It was horrible. . . I felt nervous and scared," she said.

Reid, a student at Bristol University, said she prefered prostituting to running op large student debts and hopes her controversial act will spark debate on the ever larger growing crisis over funding students' college fees.

This isn't the first time a women offers herself over the internet in an auction. A woman offered herself on a variety of auction sites in 2001, going even further than Reid by offering to marry the highest bidder. However, the successful bidder in that auction failed to honour his bid.
source : http://www.stunning-stuff.com